Easy Installation
Selecting the right earthing for your safety is only half the battle, if it isn't installed properly, it wont work properly thereby putting your safety into jeopardy.
In normal soil conditions, installation is done by making a bore of 8 inches to a suitable depth depending upon the earthing system selected, in the soil. From the evacuated earth, remove the lumps & stones. If necessary sieve the soil to remove foreign materials. Mix the EquiFill Compound with soft soil & throw a handful of the mix into the pit. After removing the plastic sleeve, place the electrode in the pit. Thereafter throw two or three kgs of the EFC - soil mix, into the pit around the electrode & add a bucket of water. Poke the pit with a long pole around the electrode for a few minutes to enable the trapped air to escape. In this manner continue the earth filling process till the entire electrode stands firmly in the pit. Ensure that the consistency of the EFC is pasty & not watery. After finishing the chamber work pour a few buckets of water around the pit. Check the pit after 24 hours.
It is important to note that the earth resistance value depends on soil conditions & its resistivity.
Step 01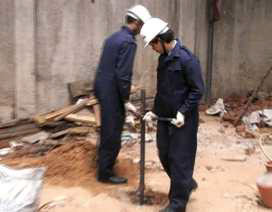 Step 02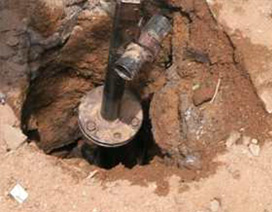 Step 03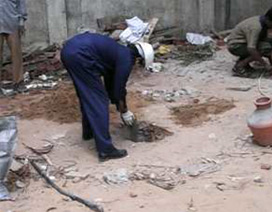 Step 04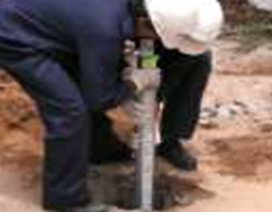 Step 05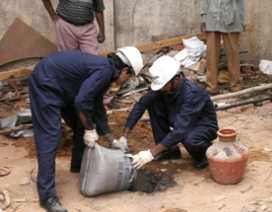 Step 06